Airlines are on a never-ending quest to come up with the perfect, most efficient process to board passengers, and it seems like Alaska Airlines is trying something out.
Passing through Seattle-Tacoma International Airport (SEA) this weekend, I noticed that a few of the gates in the "N" terminal had new signage and ropes which marked multiple boarding lanes. United and Delta use a similar system to try to sort out the boarding masses.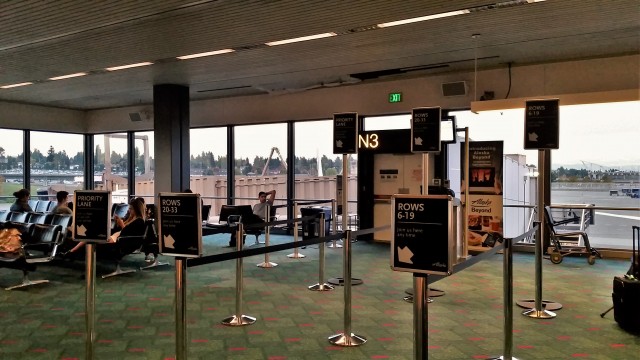 The new, experimental signs at SeaTac's Gate N3.
There were three lanes indicated:
A "Priority Lane";
Rows 20-33; and
Rows 6-19.
The Priority Lane sign had a further note, "Join us here when we call your group." With this last bit, Alaska had decided to lump all the priority boarding passengers into one late, which really isn't unlike the "First Class/MVP" lane right now; this new system simply pre-organized the economy passengers into two groups.
As for the actual execution of our full flight, things seemed to work in sorting the economy passengers, but there was a bit of confusion for the Priority lane.
Our flight to Los Angeles was delayed by 15 minutes; by the time boarding was announced, about 75 passengers were already in queue, mostly in one of the two economy boarding lines extending down the concourse.
There were about 15 passengers milling around in the Priority lane. The overhead gate monitor displayed the boarding groups and when they were boarding.
First class was called, and folks sorted themselves out, some shuffled up to the gate, while others stayed where they were.
About five seconds later, boarding was called for top- and mid-tier elites. This was my cue to take a small step forward, and it seemed that I was already behind some fellow elites.
Then five seconds later everyone else (lower-tier elites, Preferred Seat passengers) was asked to join the line.
I'm not sure if this quick succession of boarding calls was part of the new process, or the gate agent trying to expedite boarding because of the short delay, or some other reason, but it caused everyone in the Priority lane to "freeze" in place and basically board in the order they had originally lined up. No body walked backwards to the end of the line.
The current boarding area signs.
From my vantage point in Row 6, it seems like the goal of getting the rear of the plane seated first was accomplished. However, the entire boarding process itself didn't seem to be any shorter, and in fact seemed a bit longer than usual.
Our flight ultimately landed 30 minutes late, which I can't attribute to the new boarding process. I did appreciate that folks were lined up instead of as one big bottlenecked crowd, but I'm hoping that Priority boarding isn't what I actually experienced.
I'm glad Alaska is experimenting in hopes of creating a better system, I'm just not sure if what I saw was particularly innovative nor goal-accomplishing.